McCarthy Illuminating Keyboard
Connected instructional piano
Learning to play a keyboard should be fun and rewarding but for most people it can be the opposite. The Illuminating Piano makes learning sheet music fun and easy through and integrated approach that shows users to see what note to play via digital sheet music and lit keys. McCarthy Music teamed up with Product Creation Studio (PCS) to realize their vision to transform students into musicians.
Product Design, Product Engineering, Manufacturing Support
Industrial Design, User Experience, Mechanical Engineering, Electrical Engineering, Firmware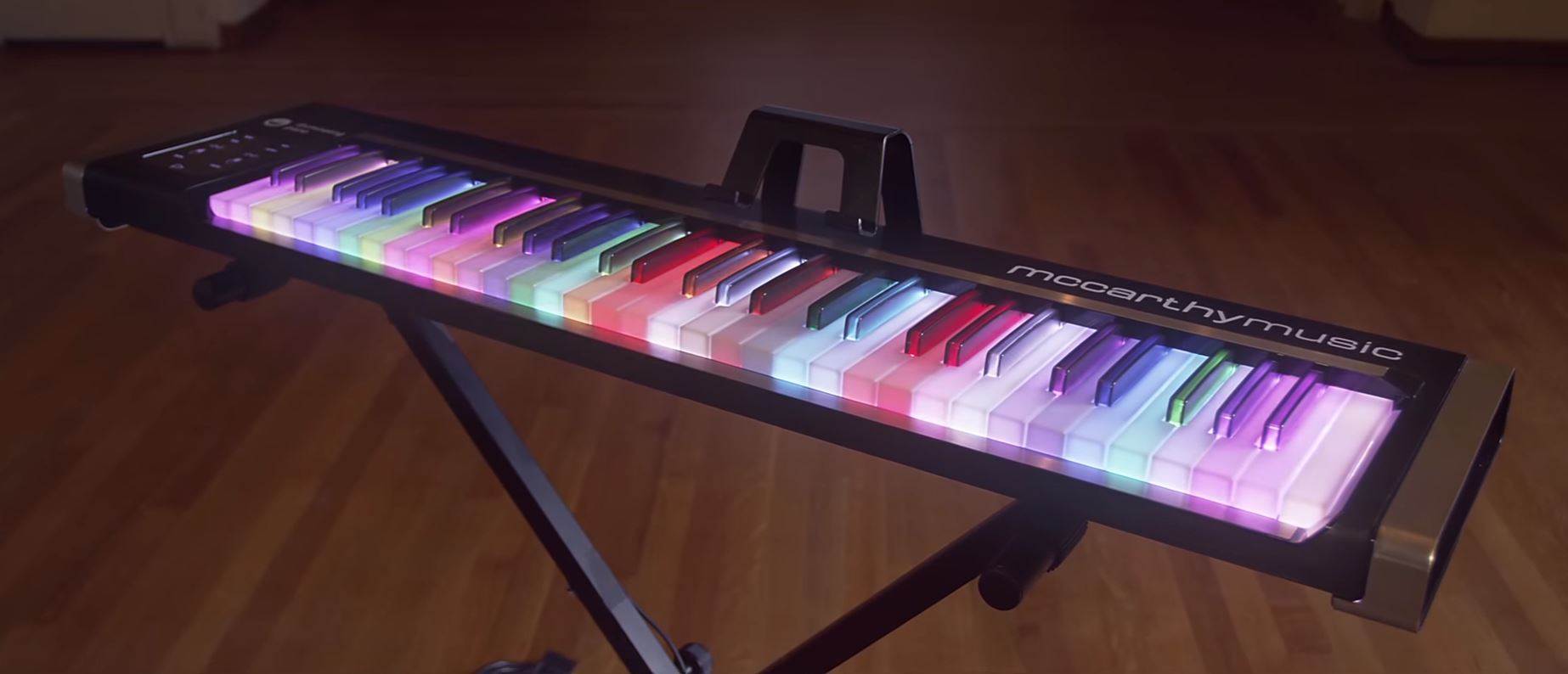 Inviting Design for Fun and Function
McCarthy Music had the idea and vision for the Illuminating Piano but they needed a team capable of designing, testing and developing their keyboard for production. Product Creation Studio (PCS) joined forces with McCarthy Music to become their design and engineering team. PCS worked in the early stages of the project to build proof-of-concept prototypes to win the hearts and minds of investors and capture interaction and usability data. Funding secured, PCS then matured the designed and optimized the keyboard for manufacture and low production costs.
Designed to appeal to players of all ages and skill levels, the McCarthy Piano creates a unique link between the sheet music, the piano, and the player's fingers. The idea of using lighted keys to teach piano isn't new. But previous attempts have fallen short. Complicated set ups and lackluster lighting solutions had failed to have an impact. The McCarthy Illuminating Piano is the powerful result of what happens when engineering, design, and possibilities come together.
Climbing the Charts
It is nice to be noticed. The Illuminating Piano was launched at the 2015 National Association of Music Merchant's (NAMM) show and generated plenty of buzz getting press from USA Today, The Today Show, Geekwire, Mashable, The Gadgeteer and more. Young and old now have a new, fun way to learn and play and that is music to our ears.
"It's hard to summarize two and half years of working with a group of people… but I think [PCS has] been knowledgeable, professional, helpful, engaged, and able to work through these tough problems with us… [L]aunching a product is about removing unknowns and there's no one better to pull back the sheets than with this team." - Kevin McCarthy